It's our 6th Birthday! How we got to here!
Once you reach a certain age, most adults don't get too excited by birthdays, but for ATA it is the opposite, as for us, each year is a celebration that we are doing things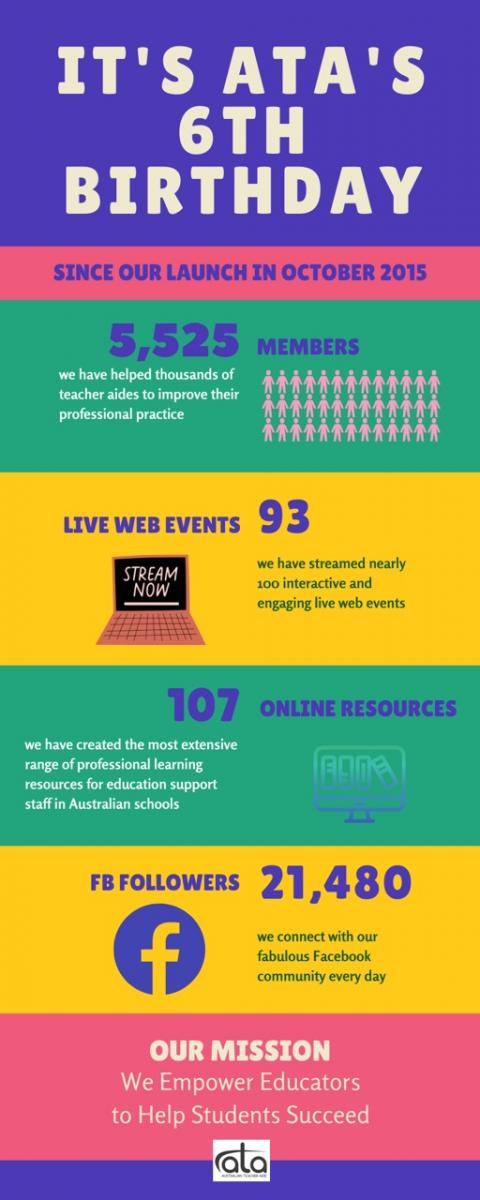 right!
Looking back, it all began with a vision for the future, a handful of online resources, a simple WordPress website, and lots of enthusiasm! We have come a long way since our launch in October 2015, and for us, turning 6 is quite an achievement.
We have highlighted some of our milestones in the infographic, and also wanted to share our company values that we believe are key to our success!
We Collaborate
A business is only as good as its people, and we feel blessed to work with a fantastic team.
Every morning, we meet with our customer service team, and collaboratively prioritise the tasks for the day. We trust our team to always do their best, and attribute much of our success to their wonderful work ethic. 
We have also had the privilege to partner with amazing education experts from around Australia, to deliver 93 live web events, since we started. 
 
I love ATA because it is full of AWESOME PD and webinars that are relevant to TA's. Love being able to go back and re-watch webinars that I haven't been able to get to the live event. Best membership out there for TA's by far! Great value for money. - Kylie, VIC 
We Enable Learning
Our mission is to empower educators to help students succeed, and when we founded ATA, our goal was to make contemporary, and relevant professional learning available to all teacher aides, including those of you in regional and remote school communities. 
Although remote learning was not used widely when we started, we dared to be different, by providing all our professional learning, online. Of course, with Covid 19, most of us are now all too familiar with the virtual environment, and learning and working from home! 
As a new member, I love the resources and support available. The portal is intuitive, and the website is very professional. It is empowering to have the value of Learning Support Assistants reinforced as an integral part of the education team providing the best possible outcomes for students. - Kellie, ACT
We Lead Change    
We are very proud of the fact that we are leading the way for teacher aide best practice. Some of our initiatives which raise the professionalism of teacher aides include developing our eTAPS program, initiating the Australian Teacher Aide of the Year awards, and writing the Australian Standards for Paraprofessional Educators in Schools (ASPES).
eTAPS
Effective Teacher Aide Practices for Schools (eTAPS) is a suite of professional learning modules that are evidence based, and modelled on contemporary teaching and learning.  Member Schools use eTAPS to build the expertise of their support teams, enabling teacher aides to use high impact strategies that help student succeed. 
Australian Teacher Aide of the Year Awards
Four years ago we initiated the Australian Teacher Aide of the Year awards, because there was no national recognition of the amazing work teacher aides do in schools. The awards highlight the outstanding contribution teacher aides make to student learning and wellbeing, and is a wonderful and positive way to raise their professionalism. You can read about this year's winners here.
Australian Standards for Paraprofessional Educators in Schools (ASPES)
Our most challenging advocacy project by far, is our commitment to develop a set of Australian Standards for Paraprofessional Educators in Schools (ASPES). This month, with the help of our Industry Reference Group, we reached the first milestone, which was to establish a framework for the Standards. You can read more about the Standards here.
ATA has brought us out of the dark ages so …
Thank you for bringing light to shine on our darkness!
Advancing our professionalism and helping us collaborate and grow together … we appreciate everything you do! – Helen, QLD
We Value our Community 
We would not be where we are today without the support of our individual and school members, some of whom have been with us since the beginning.
We talk to members of our community every day, which helps us to improve what we do, and find new ways to add more value for members. 
 
Our subscription model provides members with unlimited access to more than 100 professional learning resources, for a whole year.  
Happy Birthday ATA!!! At Dakabin High, we use ATA for PD opportunities and our staff enjoy participating. The information is evidenced and really engages our staff. It is a fabulous resource for our school, and we are very grateful to have the support. – Mel, QLD
When you subscribe to a school or individual membership with ATA, you enable us to continue to build our professional development library, and do our advocacy work, such as hosting the awards, and developing the standards. 
Our Birthday Wish
We can only achieve these goals with the support of our education community. If, like us, you believe that teacher aides are integral to schools, and contribute to student success, join the ATA community, and, together we can continue to raise the professional standing of Australian teacher aides.