eTAPS, the ultimate tool to help teachers teach and students learn
If you agree that student success means building the expertise of both teachers and teacher aides, read on!
The world's largest study on the impact of teaching assistants on student learning, revealed that teaching assistants can make a significant and positive impact on student learning, depending on how well they are prepared for their support role.
In fact, evidence revealed that in schools where TAs were not adequately prepared for their role, and were not provided with the skills and knowledge they needed to effectively support learning, student progress declined.
This shocking revelation was not the fault of the TAs, but attributed to the way schools deploy and prepare TAs – factors that are out of the TAs' control!
As a peak industry organisation, and advocate of the importance of the education support role, ATA has continued to research factors that improve the effectiveness of TAs in schools.
Our findings are similar, and in response to the evidence, we have developed a professional development program called Effective Teacher Aide Practices for Schools (eTAPS).
So, if your school does not already have a PD plan in place for teacher aides, and you are looking to improve staff expertise, get started with eTAPS. This evidence-based professional learning program will help your teaching teams work more effectively together to achieve a more successful learning experience and better outcomes for students.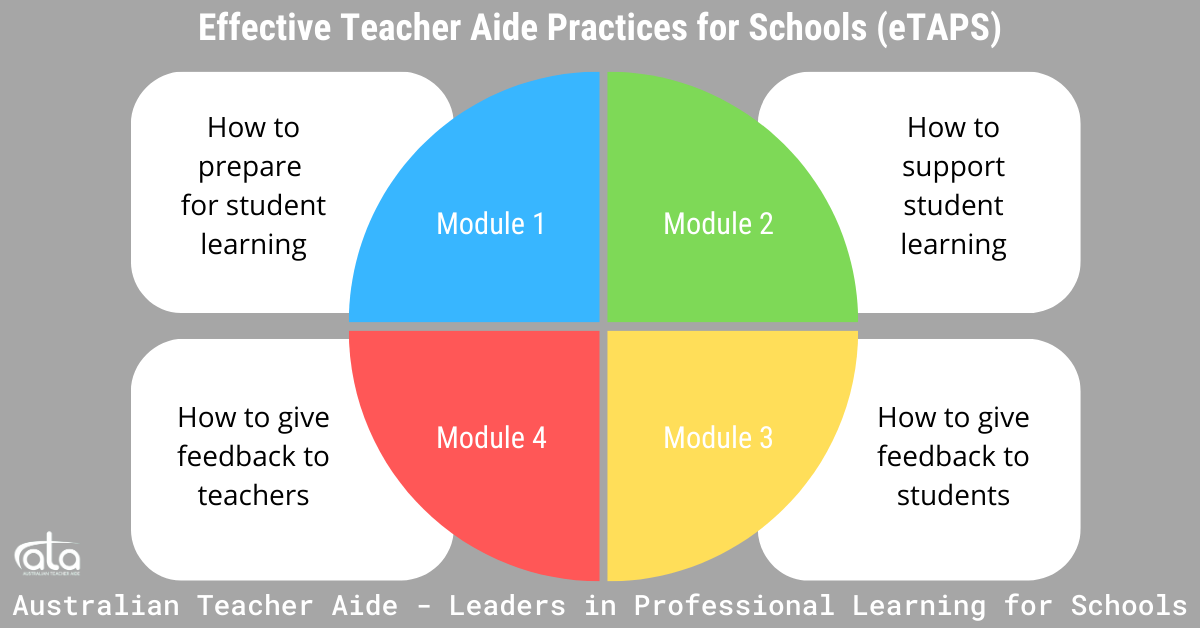 Not sure if eTAPS is right for your team? View our 4 previews and decide for yourself.
If you need more information on how to get access to this unique program, contact us.